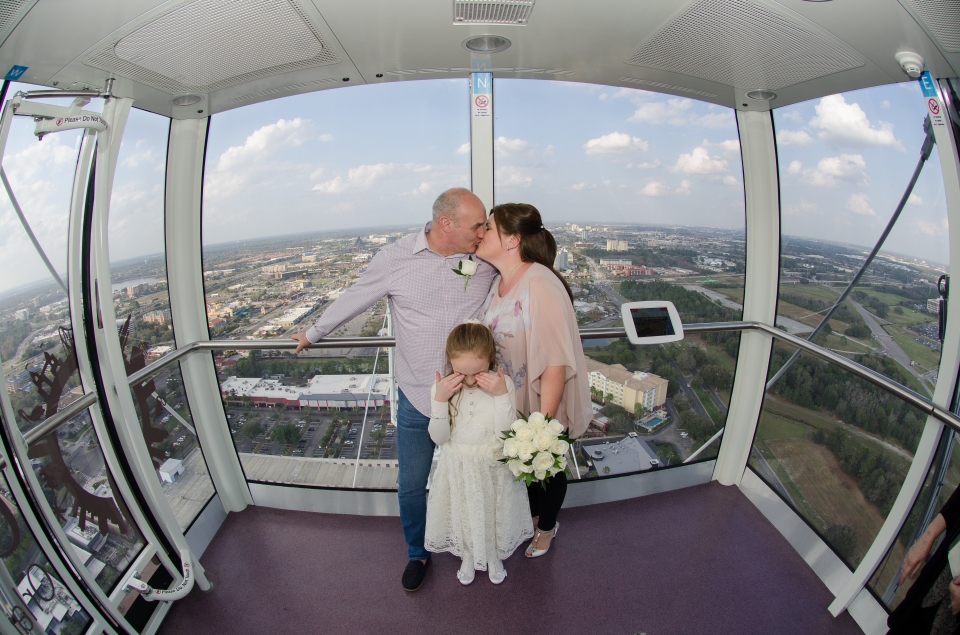 The Orlando Eye is such a unique venue for couples to exchange their vows and that is why Karen and Peter choose this location to Renew their wedding vows. The plan had been to get married on the Orlando Eye but Karen wanted her Mom and Dad to be present on her wedding day.


Our coordinator Linda worked with the couple of the day of their wedding "Karen and Peter were an extremely nice, easy going couple. They have been together 15 years and have a lovely daughter Georgia.


They were married in England on January 28, 2017 in front of a little over 20 guest. Karen mention she didn't want to bother with the formal dress and suit for the vow renewal, and loved the idea of a less formal setting (But, she did wear the shoes and blue toenail polish from her wedding day on her Renewal of vows day.
Val Tucker was the officiant, Bill Otten was the photographer & Videographer, Flowers by Lesley did the beautiful flowers for Karen and VIP Transportation provided the limousine transfer.
Following the service the couple had photos taken in Madame Tussuads – what fun hanging out with Donald Trump, Brack Obama, Taylor Swift and more!
#getmarriedinflorida #orlandoeye #creamflowers